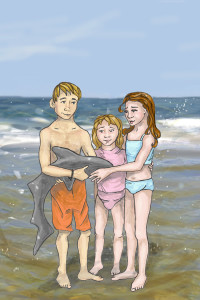 Where do stories come from? One of my favorite topics when speaking to readers is where writers get their ideas and how to turn ideas into stories.
Before I wrote The Mermaid Game: A summer short story, I wrote Shark and Minnow: A summer memoir, a nonfiction essay about sisters at the beach, a boy next door, and a shark found in the shallows. This telling is as true as my faulty memory can make it.
Read it with The Mermaid Game to see where the story and essay converge and diverge to create the different kind of truth that can be found in fiction.
Nonfiction: Shark and Minnow: A summer memoir
Fiction: The Mermaid Game: A summer short story