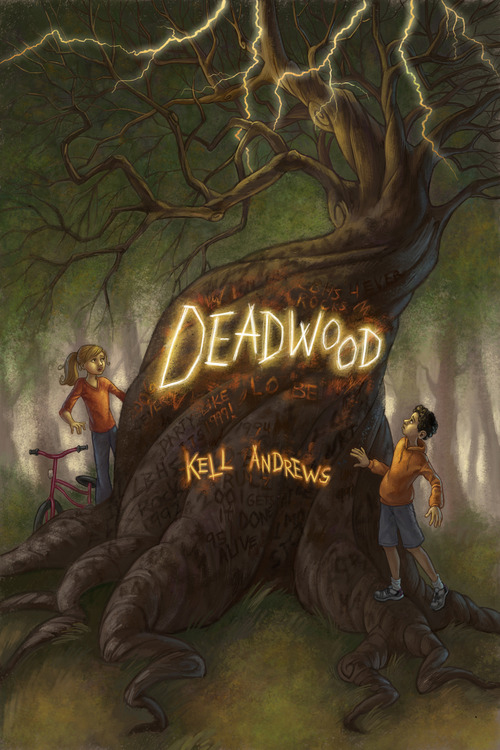 Deadwood, by Kell Andrews, a middle-grade contemporary fantasy from Spencer Hill Press (2014)

Order  from  Amazon.
ISBN 978-1939392077
Sometimes a lucky ritual becomes a curse.
Seventh-grader Martin Cruz hates his rotten new town, Lower Brynwood, but with his mom fighting a war in Afghanistan, he has no other choice but to live with his crazy aunt. Then he gets a message from a tree telling him it's cursed—and so is he.
It's not just any tree either, it's the Spirit Tree, an ancient beech the football team carves for good luck before the season opener. But every year they lose.
Now the Spirit Tree is dying, and the other trees in the park are toppling around it like dominoes. The town is plagued with unexplainable accidents and people begin to fade, drained of life.
Martin must team up with a know-it-all soccer star, Hannah Vaughan, if he has any chance of breaking the curse. If they fail to save the Spirit Tree, it could mean the destruction of Lower Brynwood and a permanent case of bad luck.
Finalist for 2015 Crystal Kites Awards, Atlantic Division, voted by SCBWI members
Silver medal in 2014 Moonbeam Children's Book Awards for preteen mystery
Shortlist finalist for the 2013 Green Earth Book Awards for children's fiction, given by the Nature Generation to books encouraging stewardship of the natural world
"…the story is fun and engaging, and the characters have enough depth to make them interesting … budding tree huggers will love the sweet bond that forms between the kids and this unusual personification of Mother Nature." —School Library Journal (SLJ)
"Danger lurks around every corner, but these two strong characters — both of them sporty and clever, with diverse backgrounds — can hold their own. Short chapters amp up the pace and hold attention, bolstering the story's wild suspense." —Foreword Magazine